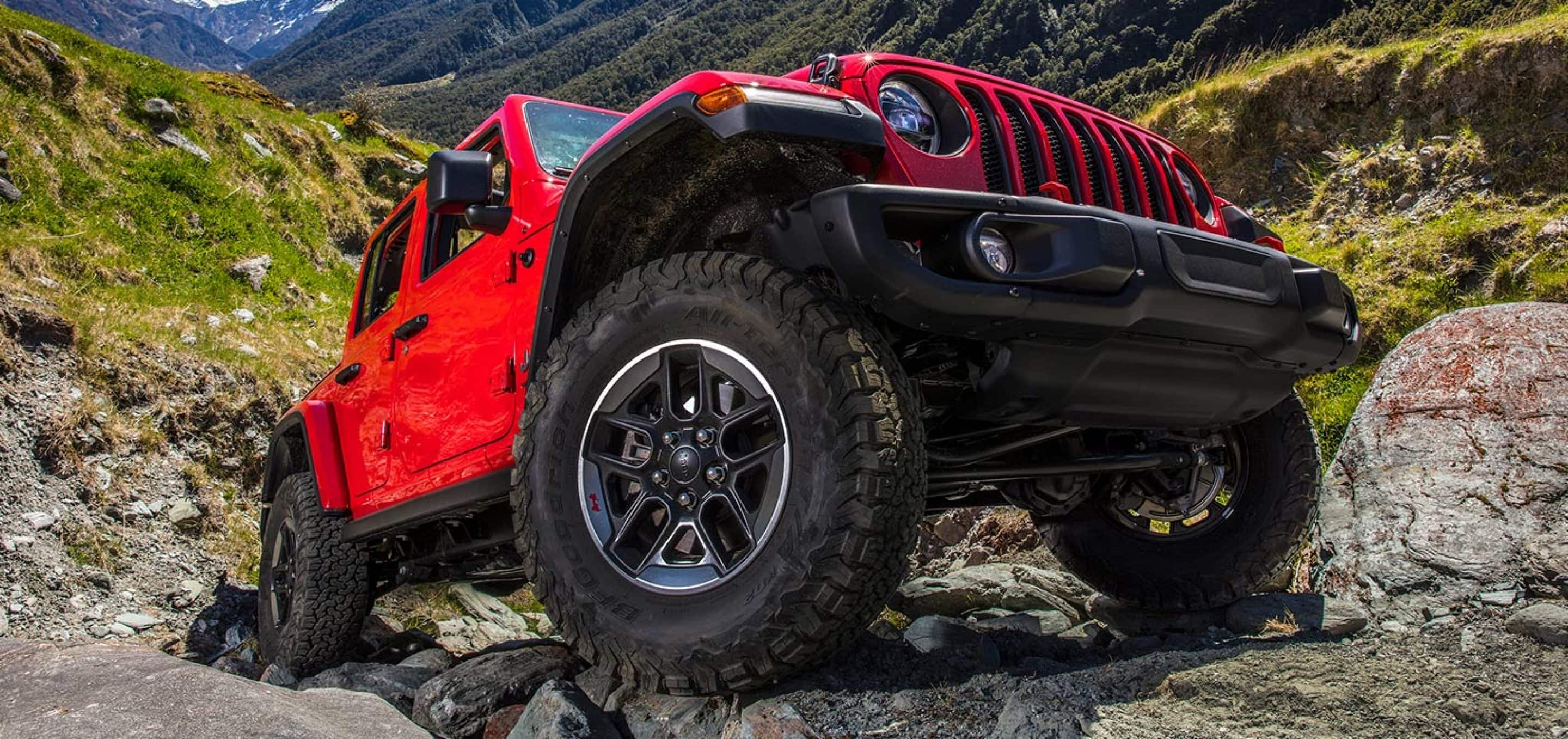 2021 Jeep Wrangler Rubicon 392
Written by Westborn Chrysler Dodge Jeep RAM
If you're an off-road junkie that is craving a soul-stirring adventure, then the Jeep Wrangler Rubicon 392 is for you! This magnificent beast of an SUV comes with a 6.4-liter V8 capable of producing up to 470 horsepower and 470 lb-ft of torque and can blast to 60 mph in 4.5 seconds or less. When you venture away from the pavement, the Rubicon 392's engine meshes perfectly with Dana 44 axles, a 2-inch lift, and standard 33-inch tires on 17-inch beadlock-capable wheels. All of this produces the most capable Jeep Wrangler ever with 10.3 inches of ground clearance and the ability to go over up to 32.5 inches of water. Jeep has rigorously tested the Rubicon 392, and it climbs up steep hills with very minimal throttle and brake input. The Wrangler Rubicon 392 will go on sale in the first quarter of 2021. Continue reading as we go over all it has to offer!
Plenty of Power and Torque
Thanks to the addition of the 6.4-liter V8, the Jeep Wrangler Rubicon 392 is the most powerful Wrangler ever created and marks the first time in 40 years the Wrangler has come with a V8. Specifically engineered for the Rubicon 392, it comes with a functional hood scoop, critical to both on and off-road performance. Also assisting with this type of performance is that nearly 75 percent of the peak torque is available just above the idle engine speed. The V8 engine is based on a cast-iron cylinder block with aluminum heads accented by an active intake manifold. The engine also has fuel saver technology with cylinder deactivation that will seamlessly shift to a smooth, high-fuel economy fuel four-cylinder for when you're simply cruising down the highway. Standard is an active dual-mode exhaust that will deliver an exhilarating sound and automatically engage under heavier loads to reduce the exhaust backpressure. The driver can also engage this feature with the touch of a button.
Amazing Performance
Paring with the amazing V8 engine is a Torqueflite eight-speed automatic transmission designed to deliver sharp gear changes during either normal and performance driving conditions. The transmission also allows the driver to change gears via the new paddle shifters mounted on the steering wheel, which is a first for the Wrangler. The transmission provides you with on-the-fly shift map changing while also relying on software for several different input parameters to determine the appropriate driving conditions. The Rubicon 392's engine calibration includes Torque Reserve and AMax shifting, which is accessible when doing a brake torque launch and delivers maximum acceleration for solid-pavement launches. Torque Reserve is usually reserved for drag strip drivers, and it is standard on the Rubicon 392 and maximizes power delivery and launch performance.
Paved Road Power
The Jeep Rubicon 392 sends power to all four wheels at all times. At the heart of this is a Selec-Trac full-time, active transfer case that provides a 2.72 low-range gear ratio. There are four driver-selectable selectable modes, including 4WD Auto, 4WD High, Neutral, and 4WD Low. Off the road, the Rubicon 392 delivers the type of legendary performance you would expect from Jeep with an Off-road Plus system with Sand and Rock modes that will maximize the Rubicons tractive capabilities on sandy terrain and low-speed rock crawling. Meanwhile, the Selec-Speed Control manages vehicle speed while traversing the off-road without requiring throttle or brake input. It can be activated by the simple touch of a button on the dashboard.
Durable Frame
The chassis of the Rubicon 392 provides you with upgraded frame rails, front upper control arms, and iron cast knuckles, which take full advantage of the power and torque. There are even heavy-duty brakes that can bring the Rubicon 392 to a complete stop no matter what terrain you're on. Much of the Rubicon 392's off-road prowess comes from the wide=track and the heavy-duty Dana 44 front and rear axles with thick access tubes. You also get an electronic front sway-bar disconnect, which maximizes suspension travel even during the most demanding off-road conditions.
Get the Wrangler Rubicon 392 at Westborn Chrysler Dodge Jeep RAM
As we mentioned, the Wrangler Rubicon 392 goes on sale during the first quarter of 2021, and once it becomes available, you can be sure to get yours here at Westborn Chrysler Dodge Jeep RAM! In the meantime, be sure to check out our extensive 2021 Wrangler inventory and take a test drive. Our amazing representatives can even accompany you on that test drive if you wish. We promise you will be impressed with the off-road prowess of the 2021 Wrangler no matter what trim you choose. Can't make it down to the dealership? Be sure to check out our complete inventory
here on our website
.